Brit commented on my quote from the Bean on Sunday and it made me re-read the post and realize that my remark that I didn't laugh at Amen and Firemen might be misinterpreted. I didn't laugh because I didn't want to offend her. Hubster and I laughed 'til we cried after I left the room.

I went to my LYS yesterday and learned enough crochet to finish the Medley sweater. I had some Patons Super Chenille from the Stash of Shame (Motto: It's Small But It's Oooooooooooooold.) in a red that matched perfectly. It really finishes all the edges nicely. I may take out some of the crochet and redo it. Since this was a new technique for me, it's not even everywhere. The collar in particular could have been better.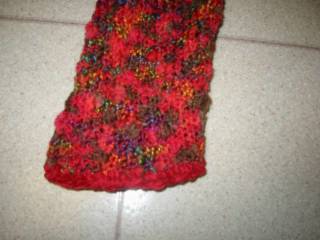 Meddlesome with a row of single crochet at the hem(?) of the sleeve

Yesterday's trip to the LYS also provided some drama in the form of frogging the Lopi sweater. I'm not finished with the frogging (that yarn has been sitting in sweater form for 12 years or so and doesn't really want to go anywhere).

I really wanted to finish the Lopi sweater in a timely manner in order to reduce the Stash of Shame (two half-finished sweaters and a sweater's worth of the aformentioned Patons Super Chenille and some really nice but really purple Takhi Chelsea Silk and assorted Pingouin cottons that may get donated to charity knitters along with the large bag of yellow Encore I bought to make a baby blanket for a now 4-year-old).

Yes, I do have other stash, but it's not Stash of Shame if it's less than 5 years old ;>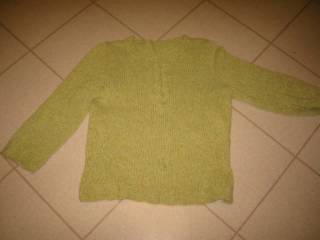 Chamomile

I need to post a picture with me wearing it but that requires the presence of someone to take a pic.




I told you it was really really purple!